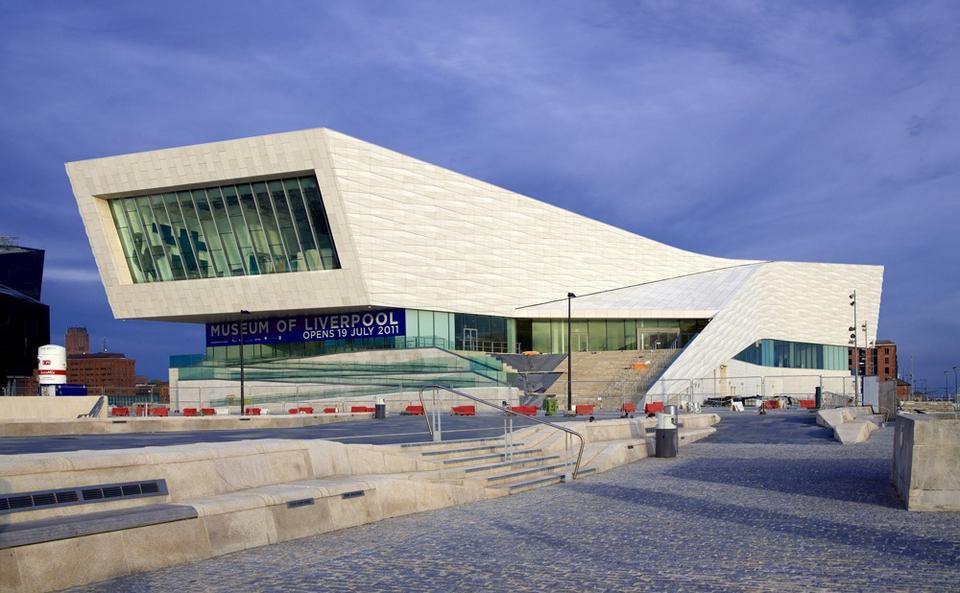 The Museum
The Museum of Liverpool provides visitors with insights into the history of Liverpool, its people, their culture and sport, its rich maritime history and how these shaped the city.
The museum is housed in a modern, purpose-built structure on the water front. It has many noteworthy architectural features, including the huge feature windows at either end and a sweeping spiral staircase in the centre linking the various levels.
A section of the museum covers the maritime and global trading history of Liverpool including how its port developed and evolved.
Another section covers the Liverpool Overhead Railway, once an important mode of transport along the docks, and it would have made a great tourist attraction if it were still around today.
Liverpool's association with the military is also covered in an exhibition area containing historical army uniforms and military artefacts. It includes information about military campaigns and deployments in which the local regiment took part.
In addition to its wide-ranging permanent display, the museum also hosts various special events and exhibitions throughout the year. Click the "More info" button to find out about any exhibitions which may be showing at present.
Visitor Information
The Museum of Liverpool is located at the Pier Head near Albert Dock. Click the map pin icon to view the location on a map.
There is a café situated on the ground floor where visitors can get a breakfast, lunch or snack.
The museum shop stocks a wide range of Liverpool souvenirs, books and gifts.
Admission to the Museum of Liverpool is free of charge.
For information on seasonal opening hours, click the "More info" button.
Curious Questions
What name did the locals give to the Liverpool Overhead Railway, and why?
When was the Overhead Railway dismantled and why? Do you think it was a mistake to demolish it?
What development triggered the decline in port and dock activities in the city?
Liverpool has a rich industrial history. Well known brands set up factories in and around the city during the 19th and early 20th centuries. The museum has examples of some of their products on display. Many of these factories are now closed or have relocated. What has replaced these industries as employers?
Pier Head, Liverpool Waterfront, Liverpool, L3 1DG, United Kingdom
£0.00

There may be other price categories (possibly higher or lower) available. Click the 'More Info' button for details.