Norton Motorcycles Factory Tour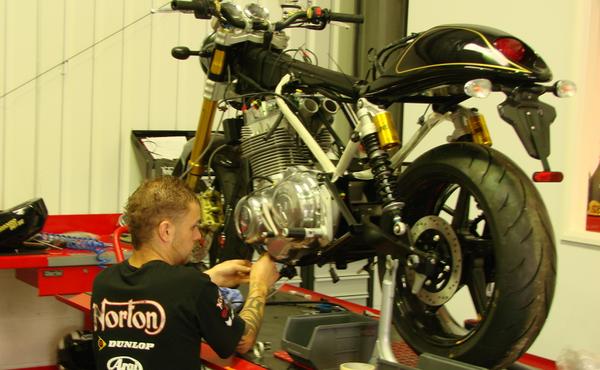 Norton is a manufacturer of hand-built motorcycles. They also perform research & development and component manufacture in addition to assembling and testing their motorcycle products. Norton Motorcycles export their motorcycle products all over the world. They are proud to show you around their factory.
Norton hand-build their motorcycles to ensure that each one is built to perfection and to the highest standards. The Norton brand has been established as a desirable British motorcycle marque among motorcycle owners and among those involved in motorcycle racing.
Norton Motorcycles design offices and production facilities are located at Donington Hall, 21km (13 miles) south east of Derby (about a 21 minute drive) via the A6 and A50. Click the map pin icon to view the location on a map.
Tours take place on Fridays at 15:00 (3pm) and should be booked in advance. The tour lasts for approximately 90 minutes. For more details, and to book a factory tour, click the "More info" button below.
Donington Hall, Castle Donington, Derby, Derbyshire, DE74 2SG, United Kingdom
£10.00

There may be other price categories (possibly higher or lower) available. Click the 'More Info' button for details.