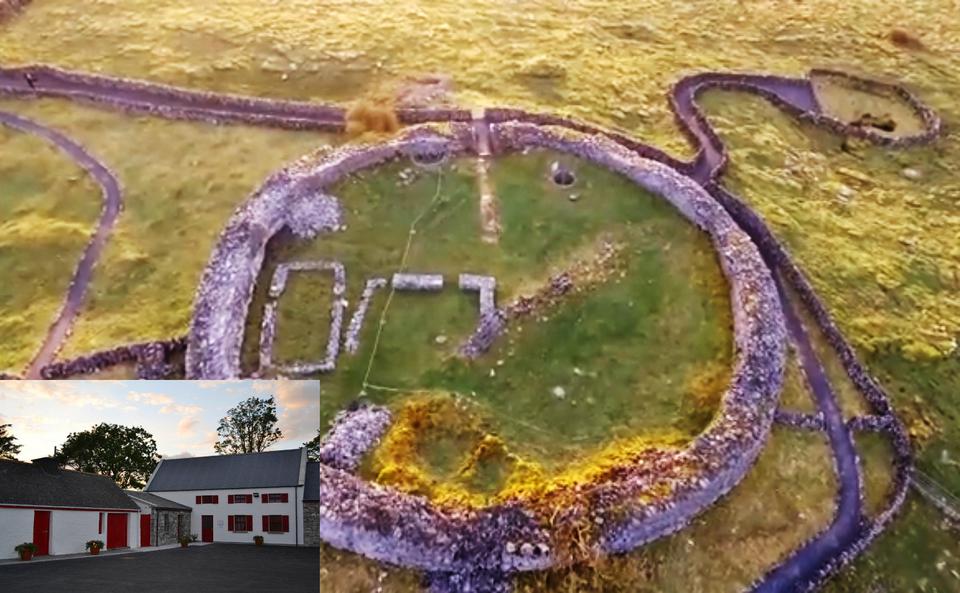 A drystone medieval fort (known as a cashel or caher) dating from the 10th century with archaeology and geology field schools and sheepdog demonstrations.
With a diameter of 40 metres (twice the diameter of the average fort), this stone fort is one of the best examples to be found in county Clare. Its walls are up to 4m thick and and 3m high in places. Such forts were designed to give protection to the occupants living within. Internally, there were thatched houses and animal quarters.
This stone fort was the walled mansion of its day. Its size, build quality and the artifacts excavated from it, indicate that the owner was a person of wealth, power and status. Its suggests it was built by a man called "Connell".
The site is of ongoing archaeological and geological study.
The nearby visitor centre provides lots of information about the site and the artifacts found there. There is also a café offering food and snacks.
Many visitors are also entertained by the sheepdog demonstrations which take place at fixed times during the day (these vary by week & month) so check in advance.
Caherconnell Stone Fort is located in the limestone region known as the Burren. It is 19km east of Lisdoonvarna via the R476 and R480 routes. Click the map pin icon to view the location on the map and to get directions.
For information about visiting Caherconnell Stone Fort, the geology and archaeology field schools and the sheepdog demonstration times and admission prices, click the "More info" button.
The extra curious among you will want to know all about the Caherconnell ring, a silver ring, with interesting ornamentation, found on the site. Visit and discover.
Carron, Kilfenora, Co. Clare, V95 YK31, Ireland
€9.60

There may be other price categories (possibly higher or lower) available. Click the 'More Info' button for details.