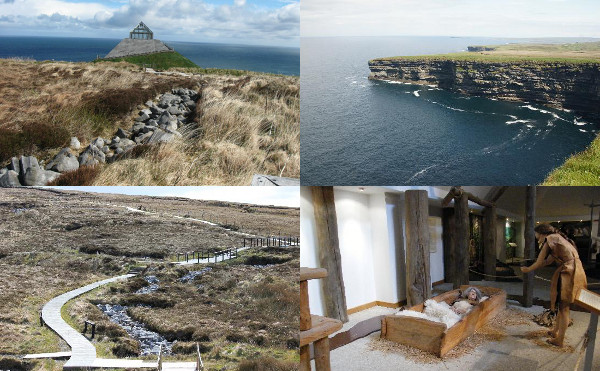 With most of it lying hidden under the wild boglands, like an iceberg under the sea, we can only get a glimpse of the extensive stone-age system of walls, fields, dwelling houses and megalithic tombs. This system of walls is over 6,000 years old - the oldest such structure in the world.
Discovered by accident in the 1930s by local school teacher Patrick Caulfield who kept finding piles of stones under the bog while digging turf. He knew that the stone were not random, but had been put there in lines. He also realised that it must have been done a long time ago because a peat bog takes thousands of years to form.
It wasn't until 40 years later when Patrick's son Seamus, who, having studied archaeology, began to investigate this further and began mapping and excavating.
Today, this work continues, and the on-site visitor centre provides an insight into the structures and what life may have been like for the people back in the time when these walls were built. The visitor centre also has some examples of ancient wood recovered from the bog.
Visitors can walk along trails to view some of the exposed wall stonework. As you walk these trails you can look out to the Atlantic ocean and take in views of the stunningly rugged and steep cliffs on Mayo's northern coastline. It's a little eery to see these stone structures in such a wild and exposed location and to think about the people who built them over 6,000 years ago and what their daily life must have been like.
Important Note: It is easy for the uninformed visitor to the Ceide Fields to dismiss it as a pile of stones in a field. In order to understand this place, and its significance, it is vital to take the guided tour and to be informed about its history and context. Otherwise the visitor risks being disappointed, which would be a pity.
The restaurant at the Visitor Centre is a welcome refuge for a meal or snack after the windy walk-about.
The Ceide Fields is located near Ballycastle, 35km north west of Ballina. Click the map pin icon to view the location on a map. The area and coastline around the Ceide Fields is spectacular and, if the weather is kind, it is worthwhile driving on a little further to see a bit more and to take more photographs.
For further information about opening times and admission prices, click the "More info" button below.
Ballycastle, Co. Mayo, Ireland
54.305623309211,-9.458509306238
€4.00

There may be other price categories (possibly higher or lower) available. Click the 'More Info' button for details.