Cliffs of Moher Visitor Experience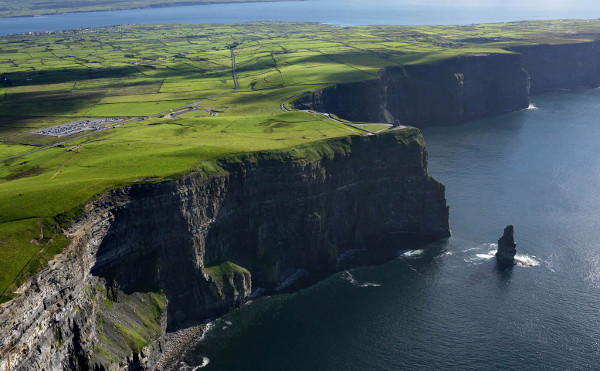 Marking a very rugged and steep transition between land and Atlantic ocean, the Cliffs of Moher are a magnificant sight. The rocky zig-zag cliffs stand at a height of 214m (702 feet) above sea level and stretch for a distance of 8km (5 miles) on the Atlantic coast.
While it isn't true to say that on a clear day you can see Newfoundland, Boston and New York, you will be able to see Galway Bay, the Aran Islands, and the Twelve Pins and Maum Turk mountains to the north and the Dingle Peninsula and the Blasket Islands to the south.
Feeling the Atlantic breeze in your face as you stand overlooking the ocean and see the stark cliff fronts being battered by waves creates a deep and lasting impression which you'll treasure for many years.
As well as the mighty cliffs themselves and the spectacular panorama that will have you snapping photographs aplenty, you should also look out for O'Brien's Tower. This stands on the headland and was built as a viewpoint in 1835 by local landlord Cornelius O'Brien. Yes, the cliffs were a popular tourist attraction even back then. It is open to visitors, with a spiral staircase leading to the top. There is a separate admission fee for the tower.
The Cliffs Exhibition is an interpretive centre housed in an underground building containing a large domed cave with displays depicting the natural features and wildlife which can be seen around the cliffs.
For details of opening hours and admission prices to the Cliffs of Moher Visitor Experience click the "More info" link below.
Cliffs of Moher, Liscannor, Co. Clare, Ireland
52.972103899404,-9.426014638237