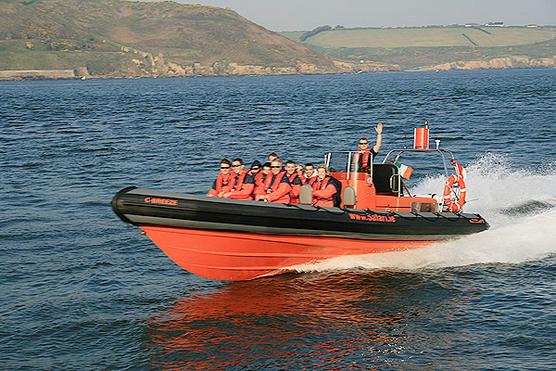 Cork Sea Safari combines the thrill of a high speed motor boat, the fantastic Cork coastline and the culture and heritage of Cork harbour to produce a unique tourism experience for the Cork visitor. It aims to inform the visitor about the area and its history while also showing the visitor around the area from the water.
The sea has played and continues to play a very important role in the livelihoods and commercial life of Cork, not to mention it's value as a recreational resource, and so to visit Cork without going on the water is to miss out on an important perspective on the city.
Cork Sea Safari offer a number of tours from 1 to 4 hours duration, and take in Cork harbour, Crosshaven, Rochespoint lighthouse, Spike Island (a former prison), the naval base at Haulbowline, Camden & Carlisle forts, with the longer tours going as far as Kinsale and taking in some of the marine wildlife including sea birds and areas of the sea occupied by basking sharks, grey seals and dolphins.
Cork Sea Safari operate their boat tours from March to November.
For more details about the available tours and their prices, click the "More info" link below.
51.84893708657,-8.297746908268