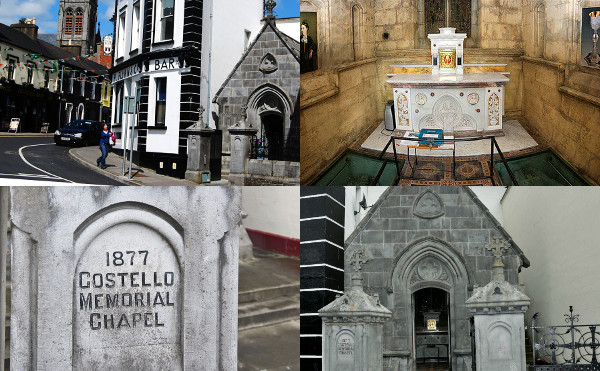 The Costello Chapel is a tiny chapel nestled between two larger, more recent, buildings on Bridge Street, Carrick-on-Shannon. It is the smallest chapel in Europe, and the second smallest in the world. It is only 3.6m (12ft) wide, 5m (16ft) long and 9m (30ft) high. Come and visit this memorial to the love of one man for his wife in the 19th century.
This tiny chapel was built in 1877 by Edward Costello, a wealthy merchant, as a memorial and burial vault for his wife Josephine who died at the age of 46 years. Edward, who died in 1891 is also buried here. Both bodies are in sunken glass-topped spaces on the left and right sides of the floor of the building. You can see the coffins and read their inscriptions through the glass.
Admission is free, but donations to help with maintence and lighting are welcome.
This hidden gem is of great interest to the curious tourists who discover it. It is located at the top of Bridge Street at the junction with Main Street, opposite the town clock (another curiousity). Click the map pin icon to view the location on a map.
For further details and opening hours click the "More info" button below.
Bridge Street, Carrick-on-Shannon, Co. Leitrim, Ireland
53.945413636637,-8.095500362744