Dalkey Castle & Heritage Centre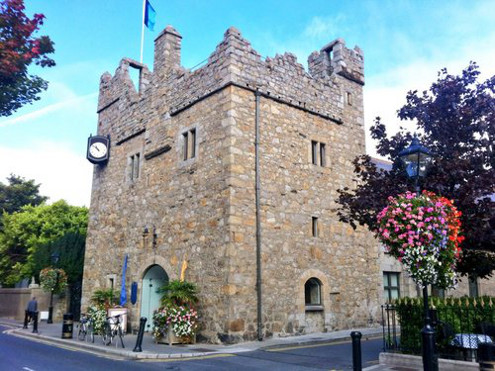 Dalkey Castle is the sole surviving castle from among seven built in Dalkey during the middle ages. They were built to securely hold goods which were offloaded from ships. During that period Anglo-Norman ships bringing goods to Dublin would offload at Dalkey because they could not use Dublin due to the river Liffey being silted up. These castles incorporated several defensive features to protect them from attacking plunderers: Machicolations, for dropping stones etc. on the attackers below, the Murder Hole, the Battlements, and the arrow-loop windows. Internally the structure has a fine example of a barrel-vaulted ceiling.
Today it incorporates a heritage centre, writers' gallery and visitors can enjoy a "Living History" tour as actors, in period costume, give a theatrical performance & tell their stories. Enjoy the view from the battlements: the sea on one side, the mountains on the other.
Dalkey Castle is located approximately 16km by road from Dublin city centre. It can also be accessed by DART/Train from Dublin city.
For details of opening hours and ticket prices click the "More info" link.
Castle Street, Dalkey, Co. Dublin, Ireland
53.277950582691,-6.105571764847