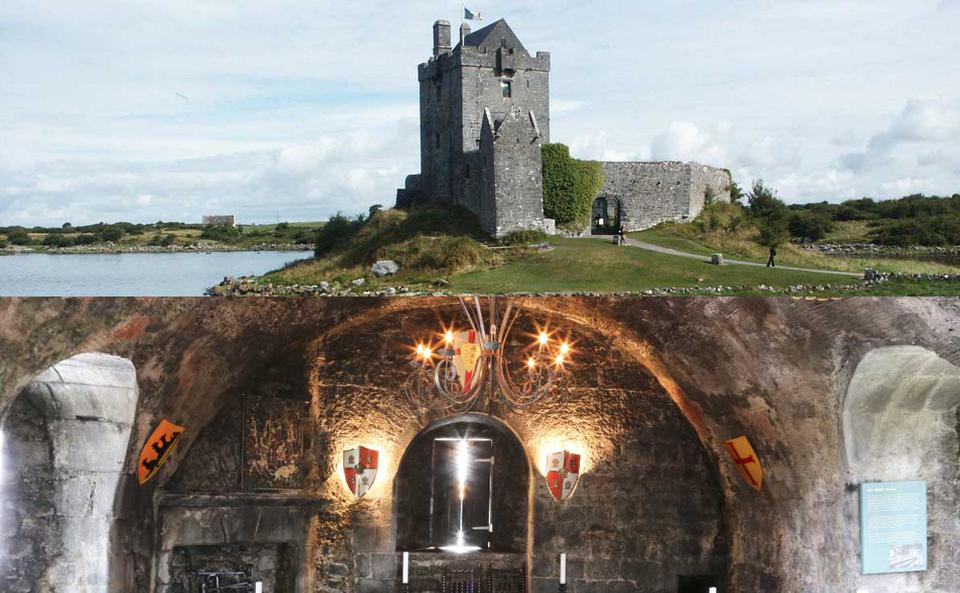 A restored castle dating from 1520 and with connections to Ireland's literary revival in the 20th century.
Built in 1520 by the O'Hynes clan, this medieval castle is situated overlooking Galway bay and close to the border with County Clare.
Its name Dunguaire translates to The Fort of Guaire, who was the King of Connaught and who died in the year 662.
The castle was bought by the famous surgeon and literary figure Oliver St. John Gogarty in 1924. He made repairs to the castle and hosted meetings of those in the literary revival movement, such as W.B. Yeats, Lady Gregory, George Bernard Shaw, Edward Martin and J.M. Synge.
Dunguaire Castle is currently owned by Shannon Development who promote it as a tourist attraction and highlight its importance in the culture and history of the area. Visitors can see how people lived from 1520 onwards.
Dunguaire Castle is open to visitors from April to mid-October.
Opening hours: 10:00 to 16:30.
The Castle also hosts evenings of entertainment with a medieval-style banquet, comprising four courses, served at long oak tables under candlelight. Guests will be entertained with music, song and storytelling, featuring selected extracts from the works of O'Casey, Shaw, Synge and Yeats. Booking essential. Price: €48. Online booking essential.
Dunguaire Castle is near the village of Kinvara, located on the N67 route, 30km south of Galway city. Click the map pin icon to view the location on a map.
For further information, ticket prices and to book online, click the "More info" button below.
Kinvara, Co. Galway, Ireland
€7.20

There may be other price categories (possibly higher or lower) available. Click the 'More Info' button for details.