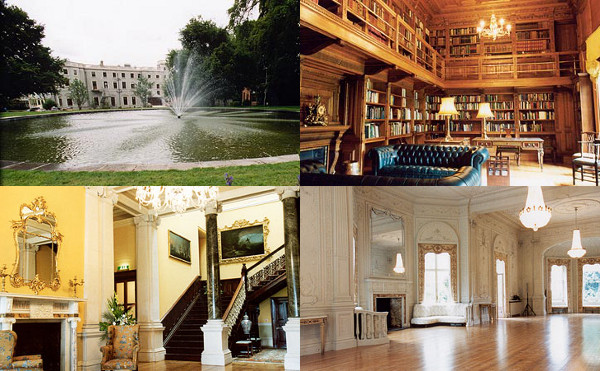 Farmleigh started as a relatively small Georgian period house, build in the mid 18th century but in 1873 was purchased by the Guinness family (Edward Guinness, great-grandson of Arthur Guinness, founder of the brewery) and significantly extended (adding an extra floor and extending the house to the west). A ballroom wing was added some years later in 1896, designed by the Scottish architect William Young.
It marked a turning point in history, where industrialists could build mansions which where previously the preserve of the landed gentry and aristocrats. Many of the features and artworks in the house were commissioned by Edward Guinness and give an insight into his character. The library contains books (on loan to the State) contains some of the earliest books printed in Ireland.
In 1999 it was purchased by the Irish state from the Guinness family for the sum of €29.2 million, and then a further €23 million was spent of refurbishment. It is currently used as a place to stay for visiting dignitaries, heads of state and guests of the Irish government, occasionally for government meetings and for certain public events.
It is open year-round, 7 days per week for the public to visit, but may be closed to the public when required for official government use.
Facilities include tea rooms and restaurant.
Allow 1-3 hours for your visit. It is a real gem, located close to the city, so try an get to it.
Admission is free.
Phoenix Park, Castleknock, Dublin 15, Ireland
53.364588673824,-6.357122891609