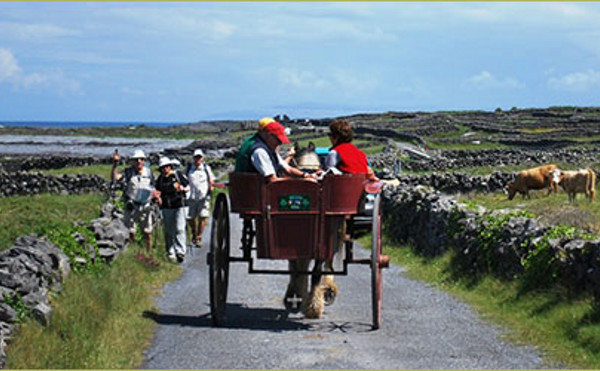 A relaxing way to see the sights of Galway and surrounds - by coach! Galway Tour Company operate coach tours which include the Aran Islands, the Cliffs of Moher, the Burren, Connemara and Cong.
There are numerous coach tours to choose from, and represent great value for money. Why fret over how to get to some of Galway's places of natural beauty when you can be taken there! On route you can relax and enjoy the Galway countryside on the way while the tour guide points out areas of interest.
The starting/collection point may vary from tour to tour. Check the respective tour for details. For more details about the tours offered, the tour itineraries and prices, click the "More info" button below.
Some of the things you might see
Whether you'll have as much fun as these guys... well that's up to you. It's all about having the right attitude!
Cliffs of Moher and Inisheer

This is what happens when you combine a trip to Inisheer and the Cliffs of Moher with a camera, a GoPro and some interns. Thanks for the amazing tour, Galway Tour Company - and a special thanks to the tour guide Paul! :)Music: bensound.com

Posted by Partnership International on Monday, 29 June 2015
The Arch Tourist Office, High Street, Galway, Co. Galway, Ireland
€25.00

There may be other price categories (possibly higher or lower) available. Click the 'More Info' button for details.