Galway Tours - Walking Tours of Galway City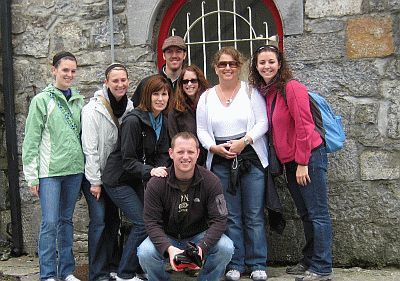 Galway Tours specialise in group tours and have a number of tour types to suit the interest of the visitors. These include a 2-hour "Medieval Galway & Waterways Tour", a "Historic Pubs" tour.
The Galway City Walking Tour takes in:
Eyre Square, the main open area in the centre of Galway city which US President J.F. Kennedy visited and after whom the Kennedy Memorial Park located in the square is named.
The Old Town Walls: Significant sections of the town walls from medieval times, as far back as 1270, are still in place. As you might expect, these were originally built for defensive purposes. The Anglo-Normans under Richard de Burgo invaided the region and captured the existing fortress (known as a Dún in Irish) from the O'Flahertys. The walls and a castle were built to defend the town from, guess who, the disposessed O'Flahertys.
Lynch's Castle
The Collegiate Church of St Nicholas - dedicated to St Nicholas of Myra, the patron saint of children (Santa Claus) and of mariners and dating from 1320. A famous visitor to the chruch was Christopher Columbus, who prayed here during a visit to Galway in 1477.
The Spanish Arch, so named because of the strong trading links betwen Gawlay and spain at the time they were built.
Historic pubs: Learn about the peope they are named after
The Lynch Memorial Window
The Pro Cathedral
The Town Hall and Courthouse with their hidden mysteries
The River walkway and Mill Streams
The starting point for the tour is the fountain in Eyre Square.
For details about specific tours and prices click the "More info" link below.
Eyre Square, Galway, Co. Galway, Ireland
53.274788521036,-9.049486299772