Glenveagh National Park and Castle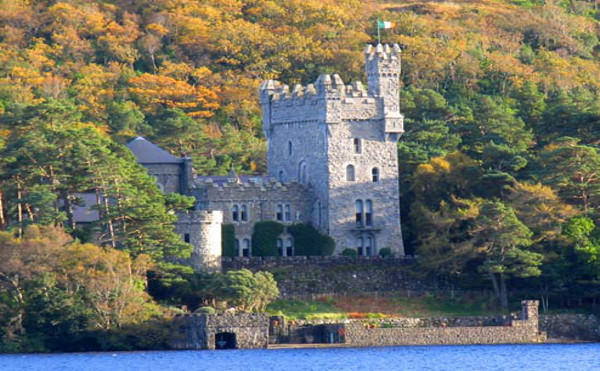 Glenveagh National Park is located in north west Donegal, and comprises 16,000 hectares of parkland, bogland, woodland and lakes. Visitors can take a guided tour of the castle, and walk or cycle in the park. Golden Eagles, Peregrine Falcons and wild Red Deer are some of the many types of wildlife which may be spotted.
Admission to the visitor centre and the National Park is free. Admission to the castle is by guided tour only (40 minutes in duration). A shuttle bus (ticket price €3.00 return) is available to bring visitors from the visitor centre to the castle. It is also possible to walk to the castle and return by bus.
Glenveagh Castle was constructed between 1867 and 1873 for the owner John George Adair. Following his death in 1885, his wife, Cornelia continued to improve the castle and the gardens.
Later owners included Professor Arthur Kingsley and Henry McIlhenny. By virtue of the fact that McIlhenny was Curator of Decorative Arts at the Philadelphia Museum of Art, he was able to utilize his expertise for the selection of artwork for the castle.
Few historic houses in Ireland, with their original furnishings, are preserved in as good a condition as Glenveagh Castle. This enables curious visitors to the Castle to get a feel for the grand lifestyle of the residents from a bygone era.
In 1975, the estate was sold to the Office of Public Works, and in 1983 the castle was bestowed to the Irish nation along with its gardens and much of its contents.
The Visitor Centre also has a restaurant, open from Easter to September, where visitors can have a meal, snack or refreshments.
Glenveagh National Park and Castle are located 22km north west of Letterkenny, about a 22 minute drive. Click the map pin icon to view the location on a map.
For details of opening times and tour prices, click the "More info" button below.
Church Hill, Letterkenny, Co. Donegal, Ireland
€5.00

There may be other price categories (possibly higher or lower) available. Click the 'More Info' button for details.