Ireland's School of Falconry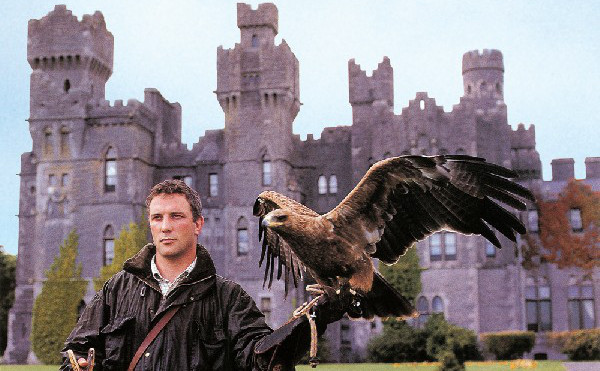 Have you ever been curious about what it's like to hold a hawk, to have it take off, circle above you and then to swoop down and land on your gloved fist? Based in the beautiful Ashford Castle, Ireland's Falconry School offer a "Hawk Walk" to small private groups. Participants are informed about the hawks and taken on a woodland walk where they allow the hawk to take off, fly above and to land on their hand. "An experience of a lifetime".
The School does not join different people together who do not know each other. The difference with Ireland's School of Falconry is that the group is small and private so the participants get the best attention from the instructors and more time with the hawks.
Be sure to bring a camera to capture this unique experience.
The standard session duration is one hour. A longer session (1½ hours) can also be booked.
Ireland's Falconry School is located at Ashford Castle on the Galway/Mayo border at Cong. Click the map pin icon to see the location on a map.
For further information and prices, click the "More info" button below.
Ashford Castle, Cong, Co. Mayo, Ireland
53.534248467742,-9.285334514117
€80.00

There may be other price categories (possibly higher or lower) available. Click the 'More Info' button for details.