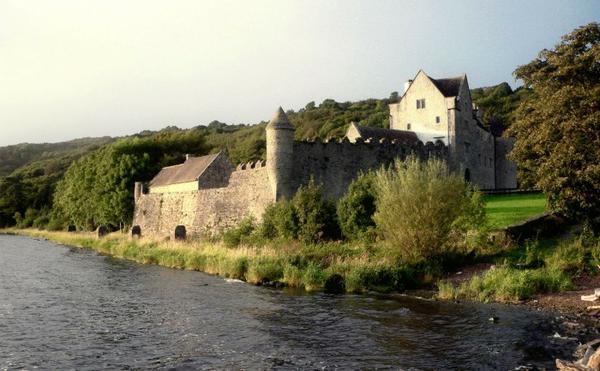 Parke's Castle is a restored castle from the early 17th century (plantation era). It was built around 1610 by Roger Parke and has several defensive features including: round flanker towers guarding the northern side, a postern gate and a sally port. It is situated on the banks of Lough Gill. The waters of the lake are likely to have been used to fill the moat which formerly surrounded the castle.
Inside the courtyard is a covered well and and stonework buildings together with excavations of the original O'Rourke tower house built in the 15th century.
During the plantation era, lands were taken from local land-owners by the English military forces and given to English settlers who would be loyal to the Crown and keep the native Irish people under control. It was a form of retribution and colonization.
Parke's Castle has been restored by the Office of Public Works. The window glazing has been reinstated and Irish Oak used to reconstruct the timber staircase and roof beams using 17th century techniques.
Guided tours are available and last for approximately 40 minutes.
Parke's Castle is located on the shores of Lough Gill, 7km north west of Dromahair on the R286, and 12km east of Sligo town. Click the map pin icon to view the location on a map.
For information about opening times and admission prices, click the "More info" button below.
Fivemile Bourne, Co. Leitrim, Ireland
€3.00

There may be other price categories (possibly higher or lower) available. Click the 'More Info' button for details.