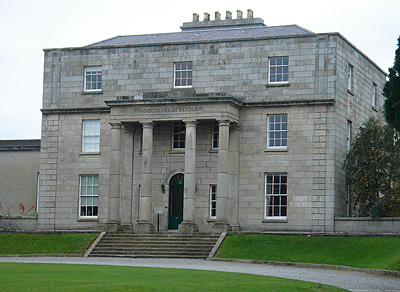 This museum is of 18th century construction with beautiful grounds and is surrounded by St Enda's park. It is dedicated to the memory of brothers Patrick and William Pearse. It was formerly a school in which Patrick taught before his execution for his part in the Easter 1916 rising.
Originally Pearse's school was located in Ranelagh, but moved to St Enda's park Rathfarnham in 1910. Due to decreasing student numbers and growing financial pressure, the school closed in 1935. The building and its grounds were given to the Irish State in 1968 following the death of Pearse's sister Margaret Mary Pearse.
Many of the rooms in the museum have been refurbished to reflect how they would have looked in Pearse's time, including Pearse's study, the family sitting room, the art gallery, school museum and one of the dormitories.
William Pearse was a sculptor, and there is a gallery in the museum devoted to his work. There is also a nature study room in the courtyard behind the school where visitors can find examples of Irish plants and animals.
Admission: Free
Typical length of visit: 1-2 hours
Distance from Dublin city centre: approximately 8km. If travelling by bus, take bus number 16 and get off at the stop opposite St Enda's park on Grange Road.
For opening hours and more details click on the "More info" link.
St Enda's Park, Grange Road, Rathfarnham, Co. Dublin, Ireland
53.283003804294,-6.281551498314
€0.00

There may be other price categories (possibly higher or lower) available. Click the 'More Info' button for details.