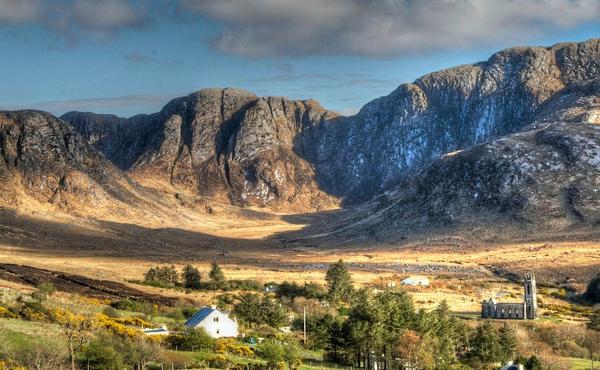 An amazing valley, great for hiking, directly below Mount Errigal. You will pass by the old church (c. 1830) built of locally quarried white marble. You will also see great views of Dunlewey Lake.
The glen was originally known locally has Heavenly Glen, but due to an error made by an English cartographer, it was incorrectly translated from the Irish language name to Poisoned Glen. He must have confused the Irish word for Heaven (Neamh) with the word for poison (neimhe). And so, this beautiful glen has been given the most inappropriate name, given its rugged, natural and unspoilt beauty.
The Poisoned Glen is located off the route R251, which brances off the N56 3km east of Gweedore. The glen is about 10km from Gweedore (17 minutes drive time). Take the N56 East out of Gweedore, and after 3km take a right turn onto the R251. Travel for about 4.7km (4 minutes drive time) and as you come to the end of Dunlewey lake on your right hand side you should see a fork in the road to the right with a sign for the Poisoned Glen. Take this fork. It is a narrow, winding road, but your efforts will be rewarded.
Click the map pin icon to view the location on a map.