Powerscourt House and Gardens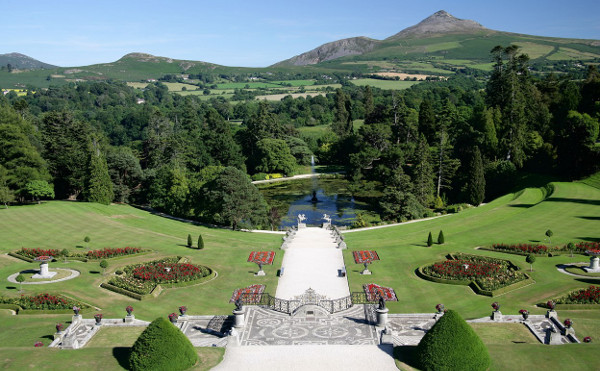 Powerscourt House and Gardens is a magnificent place to visit. The house, built in 1741 was designed by Richard Cassels (a.k.a. Castle) for the 1st Viscount Powerscourt. This 68 room mansion is in the Palladian style and it exudes grandeur. The south facing rear of the house overlooks the ornate gardens from a height.
Inside, the house contained some of the finest 18th century interiors in the country.
A century later, the architect Daniel Robertson drew up garden designs for the 6th Viscount Powerscourt. Robertson was influenced by Italian Renaissance villas and their terraces. Much of the implementation of the design fell to the 7th Viscount Powerscout in the late 1850s with statues, ironwork and other decorative items added and more tree planting done.
Later generations added the Japanese Gardens,the Pepper Pot Tower and added more specimen trees.
The estate was bought by the Slazenger family in 1961 from the 9th Viscount Powerscourt. A fire in 1974 resulted in major damage to the house, turning it into a roofless shell and it remained so for twenty years. It was reroofed in 1996 and opened to the public in 1997.
Today, Powerscourt House and Gardens is a major tourist attraction in the region and the country. It was recently voted as one of the top ten houses and mansions worldwide by the Loney Planet Guide. There are several shops in the house selling fine Irish design products such as fashion, jewellery, furniture and giftware. A food hall sells delicious jams, breads, cakes and other edibles.
Visitors feeling hungry can get a choice meals, snacks, soups, baked goods, etc. in the Avoca Terrace Café overlooking the gardens below and the Sugarloaf mountain in the distance.
A garden pavillion adjacent to the house is a large garden centre and a offer a wide range of garden products, tools, seeds, accessories and plants.
Powerscourt House and Gardens is located near the pretty village of Enniskerry, 29km south of Dublin city (about a 45 minute drive). Click the map pin icon to view the location on a map.
For information about opening times and admission prices, click the "More info" button below.
Powerscourt Estate, Enniskerry, Co. Wicklow, Ireland
53.18442808138,-6.18787223089
€8.50

There may be other price categories (possibly higher or lower) available. Click the 'More Info' button for details.