Titanic Experience Belfast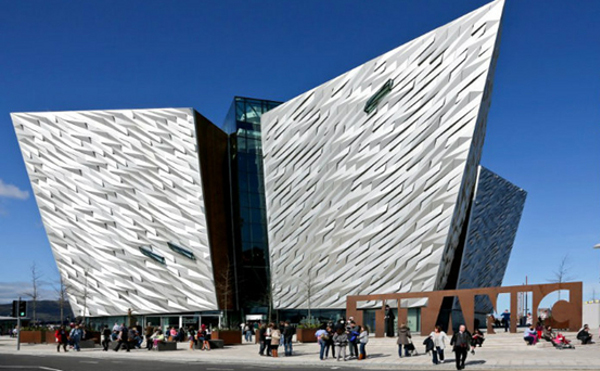 The Titanic Experience, a visually amazing building in its own right, and with its own facinating side story, wows visitors on many levels. It celebrates the construction, in Belfast, of the RMS Titanic. Multiple galleries tell various aspects of the story of the Titanic, from its conception in the early 1900s, to its construction, launch and ultimate tragic end.
When launched it was hailed as the new wonder of the world, and the greatest ship ever built. It was an incredibly large-scale work of engineering and fitted out to the highest standards of luxury.
The Titanic story is a disturbing mix of awe, amazement, dedication, determination, pride, tragedy, horror, disbelief and sadness. For the curious, it makes a deep impression and leaves a lasting memory. No visit to Belfast is complete without visiting the Titanic Experience.
The Titanic Experience is located on Queen's Road on the banks of the river Lagan near the famous Harland and Wolff shipyards. Click the map pin icon to view the location on a map.
For information about visiting times and admission prices, click the "More info" button below.
Queen's Road, Titanic Quarter, Belfast, Northern Ireland, BT3 9EP, Ireland
£17.50

There may be other price categories (possibly higher or lower) available. Click the 'More Info' button for details.