AquaDom & Sea Life Berlin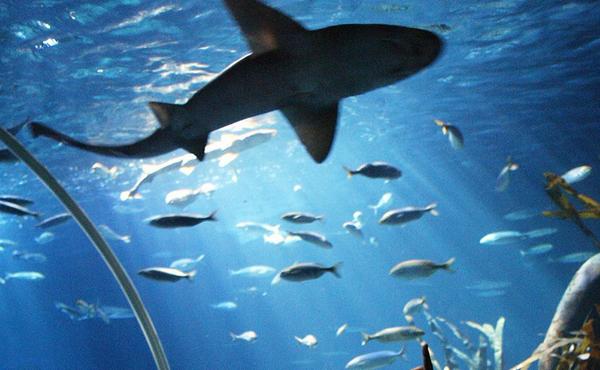 With over 5,000 sea creatures, and with facilities which enable visitors to get close to them, this tourist attraction is very popular with families. In certain sections you descend into the underwater sea world. Large Eagle Rays and Seahounds swim above and around the glass-enclosed walkway.
At various stations there are staff at hand to explain and demonstrate. Children love to see and get close to the starfish and hear about these amazing creatures.
The AquaDom is in an adjacent building. It is the world's largest cylindrical aquarium containing over 1 million litres of water. Standing 25 metres tall, visitors enter a glass elevator and are taken on a journey upwards through the centre of the aquarium, for a 360° view of the 97 different species of fish. Did you know that 8kg of food is fed to the fish in the AquaDom each day?
The facility is fully wheelchair accessable.
Tip
Significant discounts on the walk-up price are available by booking online. Book two days in advance and get a bigger discount. Book 8 days or more in advance and get even bigger discounts.
AquaDom and Sea Life is located between the Berlin Cathedral Church (Berliner Dom) and the Television Tower (Fernsehturm). Access via:
U-Bahn: U2, U5, U8 (Alexanderplatz)
S-Bahn: S5, S7, S9, S75 (Alexanderplatz, & Hackescher Markt)
Tram: M1, M2, M4, M5, M6
Bus: 100, M48, 200, 248, TXL
Click the map pin icon to view the location on a map.
For details of open hours, ticket prices and to book online for greater discounts, click the "More info" button below.
Spandauer Str. 3, Berlin, 10178, Germany
52.52015077051,13.403695282278
€17.95

There may be other price categories (possibly higher or lower) available. Click the 'More Info' button for details.