Berlin Bike Tours With Berlin On Bike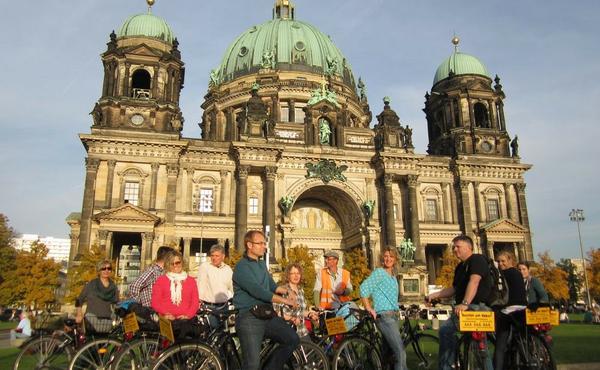 One of the best ways to see Berlin is by bicycle. A guided bike tour of Berlin will enable you to enjoy the city's sights. The routes are mostly on cycle paths and generally flat and so ideal for cycling. The tour guide will inform you of Berlin's spectacular history and unique buildings and landscapes.
Berlin On Bike have a large fleet of bicycles, of all shapes and sizes, from cruisers, to trekking bikes, and from children's bikes to extra large bikes, even electric bikes.
The meeting point for the cycle tours is the Kulturbraurei (brewery) on Knaackstrasse, just off Danziger Str. in the Prenzlauer Berg area of North East Berlin. Access via:
U-Bahn: U1 (Eberswalder Str.)
Tram: 12, M1, M10 (Eberswalder Str.)
Bus: N2 (Eberswalder Str.)
Click the map pin icon to view the location on a map.
For details of tour types, times and prices, click the "More info" button below.
Knaackstr. 97, Berlin, 10435, Germany
52.540222199723,13.413797710243
€19.00

There may be other price categories (possibly higher or lower) available. Click the 'More Info' button for details.