Berlin Boat Tours with Reederei Riedel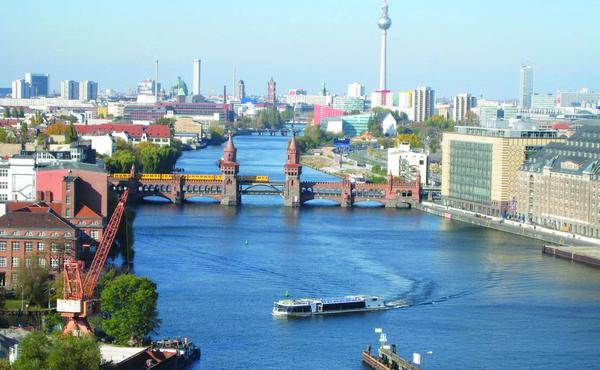 Reederei Riedel operate sightseeing boat cruises on their fleet of tour ships along the river Spree through the heart of Berlin and also along the connected canals. It is a great way to see the city in a very relaxed way, without the hustle, bussle and noise of cars, trucks and buses.
The Bridge Tour is what we recommend, but other, shorter tours are also available. It takes a circular route along the Landwehrkanal in the south side of the city, passing by the German Museum of Technology (Deutches Technikmuseum), the beautiful Villa Von-der-Heydt, the zoo and then joins the Spree near Charlottenburg Palace (Schloss Charlottenburg). It then turns east and goes through the busy commercial centre of Berlin, passing by the new train station (Hauptbahnhof), the Reichstag Building with its amazing glass dome, Museum Island, Berlin Cathedral Church (Berliner Dom) and the ornate brickwork of Oberbaumbrücke. It finally rejoins the canal again, and the scenery becomes greener and more relaxed as it finally returns to the starting point.
The tour lasts approximately 3 hours, covers a distance of 23km (14 miles) and is a wonderful and relaxed way to see the highlights of Berlin. It's a great way to begin a first visit to Berlin as it helps you get orientated and provides a good overview.
The boat passes under a lot of bridges along the way. Some are very low and it is important that visitors remain in their seats to avoid injury. Along the canal the boat passes through a number of locks.
There is a german language commentary given along the way, which provides some background and history about the places being passed. Headphones with English and other language transations are available for €3.
Drinks and refreshments are available for purchase onboard.
Access to Kottbusser Brücke via:
U-Bahn: U8, U1 (Kottbusser Tor), U8 (Schönleinstr)
Bus: N8 (Kottbusser Brücke), N1 (Kottbusser Tor)
For more details about these Berlin Boat Tours, and to book a ticket, click the "More info" button below.
Kottbusser Brücke, Maybachufer, Berlin, 12047, Germany
€21.00

There may be other price categories (possibly higher or lower) available. Click the 'More Info' button for details.