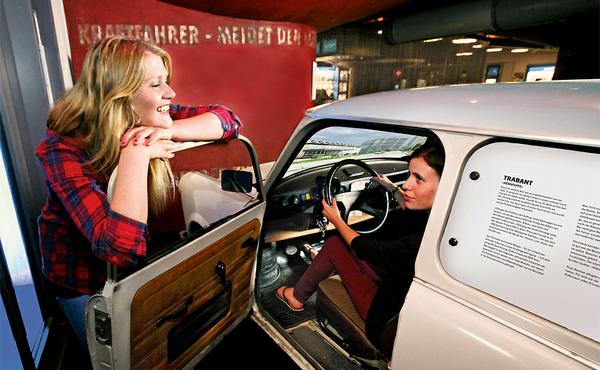 Berlin's DDR Museum is an interactive museum which gives the visitor a glimpse into day-to-day life in Berlin when it was part of the former German Democratic Republic (GDR) a.k.a. Deutsche Demokratische Republik (DDR) during the Cold War period.
Imagine life behind the Iron Curtain, cut off from the outside world by The Wall and barbed wire fences. with no access to free market brands. Choice of products was limited to items produced in the GDR or other Soviet Bloc countries, and many quality items were in short supply.
The DDR museum contains scooters and cars (the infamous Trabi) from the time, as well as rooms such as kitchens as they would have appeared and been equipped at the time. It was frugal living for most people.
This was a planned economy rather than one which encouraged free enterprise and entrepreneurship. People lived in fear of the secret police - the Stasi, which spied on its own people in order to keep them compliant. The museum has a section on the Stasi which is worth visiting.
There is a lot to see in this museum, allow 1 to 2 hours for your visit and it is very hands-on and child-friendly.
The DDR Museum is located on Karl-Liebknect-Str on the banks of the river Spree opposite the Berlin Cathedral Church (Berliner Dom). Access via:
U-Bahn: U2, U5, U8 (Alexanderplatz)
S-Bahn: S5, S7, S9, S75 (Alexanderplatz, & Hackescher Markt)
Tram: M1, M2, M4, M5, M6
Bus: 100, M48, 200, 248, TXL
Click the map pin icon to view the location on a map.
For details of visiting hours and to buy a ticket online (a little cheaper than buying at the box-office, and saves queuing) click the "More info" button below.
Karl-Liebknect-Str 1, Berlin, 10178, Germany
€9.80

There may be other price categories (possibly higher or lower) available. Click the 'More Info' button for details.